by Brenon Daly
If not for a last-minute snag in talks to sell itself, Symantec would be headed to this week's Black Hat not as the single-largest vendor in the information security (infosec) market, but as a subsidiary. Negotiations with chip giant Broadcom reportedly broke down over price (what else?), meaning Big Yellow will be unattached and unchaperoned as the hacker's ball opens in the desert. We wonder, though, how many more industry confabs will Symantec be attending in its current standing?
A public company for 30 years, Symantec generates almost $5bn of sales each year. Part of the difficulty for Symantec right now is embedded in those two facts about the company. Symantec isn't moving any closer to the $5bn. In fact, in its most-recent fiscal year it actually slipped further away, as Big Yellow got a little smaller in 2018. Declining revenue doesn't do much for Wall Street investors.
That's particularly true in infosec, where budgets across the board are fat and getting fatter. A stunning 87% of IT professionals told 451 Research's Voice of the Enterprise (VotE): Information Security, Budgets & Outlook 2019 that their companies will have more money to spend on security this year than they did last year. On average, respondents to our VotE survey said their security budgets are up 22%, an enviable bump compared with GDP-like growth rates for overall IT budgets.
And yet, Symantec hasn't been able to enjoy much of the bountiful budgets. That led to the abrupt departure of the company's chief executive earlier this year, with an interim CEO still leading the industry giant. Symantec's new chief, who cut his teeth in the semiconductor industry, has a reputation as a straight-talking operator, and he serves a board of directors that tips far more toward finance than technology. Fully half of Symantec's 12 board members, including virtually all of the directors added in the previous three years, are out-and-out financial professionals.
Given the composition of Symantec's board and executives, reports of a sale to a financially focused operator such as Broadcom shouldn't have surprised anyone. (At least not after the chipmaker-turned-enterprise-software-provider shelled out $19bn for CA Technologies, a diversified software vendor that nonetheless shares a similar financial profile and vintage as Symantec.) Although Broadcom wasn't able to consolidate the infosec giant, the reported negotiations did give a useful glimpse into the most likely outcome for Symantec: a full sale to a financial firm.
The company currently garners an enterprise value of about $16bn, or roughly 3.3 trailing sales. Even with an acquisition premium, Symantec's LBO valuation would likely be slightly below the prevailing multiple of 4.1x trailing sales in take-privates announced so far this year on US exchanges, according to 451 Research's M&A KnowledgeBase. Looking specifically at the infosec market, our data shows buyout firm Thoma Bravo has paid 4-5.5x trailing sales in its three purchases of publicly traded security companies in the past three years.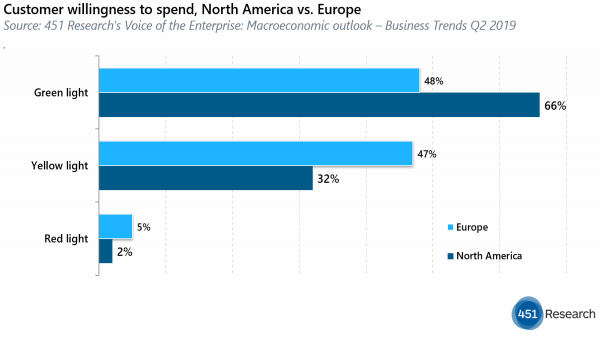 Source: 451 Research's Voice of the Enterprise: Macroeconomic outlook – Business Trends Q2 2019